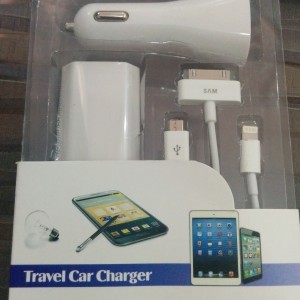 3in1Car+Home Charger
Product Code : 57
Product Description
3in1Car+home charger.
Universal USB Car Charger Adapter – Allows for quick charging in the car through a USB data cable connection. Now you can charge your cell phones, PDAs, PDA phones, digital cameras, mp3 players, CD players, as well as other devices that can be charged with a USB connection, in your vehicle through this USB Car Charger Adapter.

Don't be left without power for those important calls. Simply plug in your USB cable and your away. Uses standard 12v or 24v supply
Also Has Adapter For Home Use So charge At home as well as In car
Compitable With:
IPhone 5/5s/5c
Iphone 3G/4/4s
Anroid Phones
3in1Car+home charger.
Universal USB Car Charger Adapter – Allows for quick charging in the car through a USB data cable connection. Now you can charge your cell phones, PDAs, PDA phones, digital cameras, mp3 players, CD players, as well as other devices that can be charged with a USB connection, in your vehicle through this USB Car Charger Adapter.

Don't be left without power for those important calls. Simply plug in your USB cable and your away. Uses standard 12v or 24v supply
Also Has Adapter For Home Use So charge At home as well as In car
Compitable With:
IPhone 5/5s/5c
Iphone 3G/4/4s
Anroid Phones
Contact Us
Gala- 10 Desai Compound, J.S. Road, Near happy Home Society, Dahisar (West), Mumbai, Maharashtra, 400068, India
Phone :+917259194842